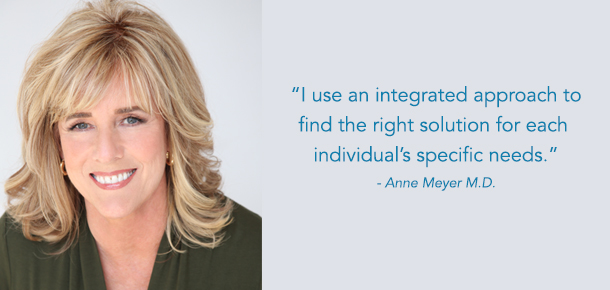 Dr. Meyer, a southern California native, who received her Masters Degree in Kinesiology from UCLA, understands that medicine is a science and healing is an art. Hence her philosophy, "Enhancing your health through nutrition, exercise and integrative treatments."
Dr. Meyer's professional career began as a R.N. in cardiac intensive care at UCLA Medical Center. After graduating from the University of Cincinnati College of Medicine, she completed an internship in internal medicine and served as Chief Resident in the UCLA/VA Physical Medicine and Rehabilitation Program. She then went into private practice and later joined the attending staff at Cedars-Sinai where she served as Clinical Chief in the department of Physical Medicine and Rehabilitation.
She is an Assistant Clinical Professor at the Geffen School of Medicine at UCLA, where she teaches medical students and residents. Her long-time practice has evolved into an integrative strategy for health promotion rather than disease management. Her personalized health approach applies prolotherapy, homeopathy, therapeutic essential oils, trigger point injections, neural therapy, intramuscular stimulation, nutrition, exercise, manual therapy and taping techniques.
Dr. Meyer has two passions: learning and her dogs, not necessarily in that order. She enjoys yoga, water sports, reading, travel and community service with the dogs permission, of course.
Clinical Focus: sports medicine and acute musculoskeletal and soft tissue conditions
Affiliations: American Academy of Orthopaedic Medicine, American Academy of Physical Medicine and Rehabilitation, American Academy of Medical Acupuncture
Diplomate: American Board of Physical Medicine and Rehabilitation, American Board of Integrative  Holistic Medicine