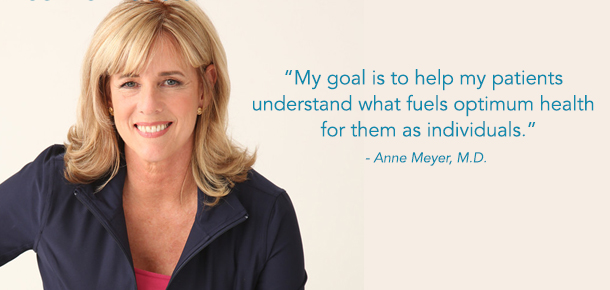 Getting healthy can be very confusing. Do you often ask yourself; "Where do I start? How do I stay healthy? How do I get rid of this pain?" My aim is to help my patients understand what fuels optimum health for them as individuals.
As a physical medicine and rehabilitation physician for over fifteen years, I've had the opportunity to work with many patients in the area of pain management. I treat patients with musculoskeletal injuries – from the "weekend warrior" to the elite athlete. My focus is to work with those who have been injured, yet are seeking good health and an active lifestyle.
In partnership with you, I educate you with the tools that you will easily use to achieve the healthy lifestyle that you want. The tools I use include: integrative pain management techniques; specialized lab testing; alternative health products; nutrition; and exercise. I use an integrated approach to find the solution that is right for each individual's specific needs. Since every person's body chemistry is different, I will help teach you how to listen to your body's needs, which is the basis for tapping into cellular memory of prior injuries that may be obstacles to perfect healing.
Each individual has a unique need and response to health care. There is no one way that is right for everybody. You know your body better than anyone else. Even after treating a specific ailment, I want to help you find the formula that works best for you to facilitate self-healing. We will create a health plan that will allow you to achieve your optimum health by yourself.
We are all born with the intelligence to self-heal – we just need the guidance. Together we can create strategies to achieve the best health possible for you. I welcome you to renewed health!